'
N

Option'

the New i30 N

Show Car

The i30 N 'N Option' show car gives a first glimpse of the how Hyundai's high-performance options could evolve. With the numerous amount of customization features available in the new N Option i30 N, the company aims to cater to the needs of driving enthusiasts who want to make their vehicles more unique and special. Once launched, the 'N Option' will be 'The Option' in the near future. The i30 N 'N Option' delivers a total of 25 different high-quality exterior and interior individualization options.

The exterior options include a carbon rear wing carrying the N emblem, a carbon hood with integrated air vents, thrilling quad mufflers, the N grille surrounded by red accents, just to name a few. Another highlight of the 'N Option' style and performance can be the wheels with casted lightweight 20-inch rims, fitted with high-performance semi-slick tyres. The exterior of the i30 N 'N Option' is coated in a unique matt paint, which was specially created for the show car.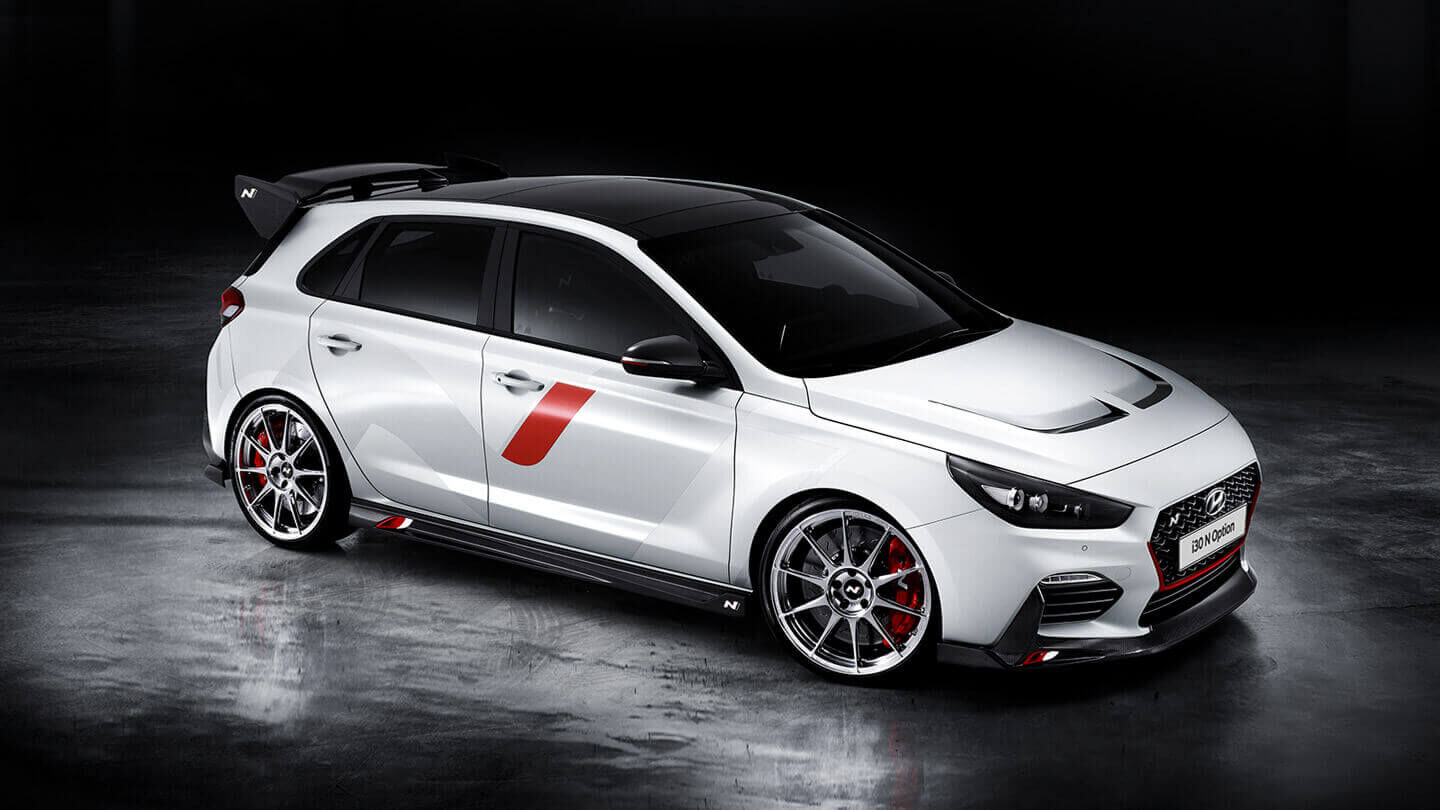 With our N portfolio we are shaking up the competition, and bringing new performance and emotions for our customers. The development of our N vehicles is grounded in Motorsport and our engagement there is the pinnacle of N. The new i30 N Line and our i30 N 'N Option' show car illustrate our dual approach to customisation, making N available to a wider audience.
A First Glimpse

of the
N

Evolution

Black carbon accents the interior of the N along the dashboard, around the door handles and air vents as well as the bottom of the steeling wheel which is covered with high-quality Alcantara.

The N also offers Alcantara for the upper dashboard and the light weight sport bucket seats, characterized with ornate red longitudinal lines. Finally the ultimate performance expression is completed with a dynamic gear shift design, sport pedals, and multiple customizable options the your personal N interior.
Long Awaited

N Revealed at the

2018

Paris

Motor

Show
AutoBild ranked i30 N 'N Option' show car as one of three top vehicles of the Paris Motor Show. "Everydbody who already likes the i30 N has to really love this car"
Racier-looking Hyundai hot hatch wings in.
Meet the i30 N 'N Option', the fiercest Hyundai ever. And yeah, there's meant to be two Ns.