We Are What We Drive
Whether it's the eye-grabbing paint finish or the heart-pounding performance, our cars give onlookers an inside glimpse into who we are and what really drives us
Our cars say a lot about who we are and how we live. They reflect our tastes, our passions, and our ambitions. We all want to be different and the desire for self-expression is wired into our DNA. Yet, for N owners, their cars aren't just extensions of themselves, they bring out the very best in them and celebrate their unique individuality in more ways than one.
It's much more than keeping their rides spotlessly clean inside and out, customizing them, or making sure they run as smooth as the day we first bought them. Nfluencers are in their element when they get behind the wheel; primed and ready to zip off on new adventures, at one with the road ahead.
With so many of us feeling so cooped up for far too long from never-ending Covid mandates and restrictions, the open road beckons us now more than ever before. Having been so disconnected from what excites and truly drives us, it gives us a chance to reconnect with our engines again.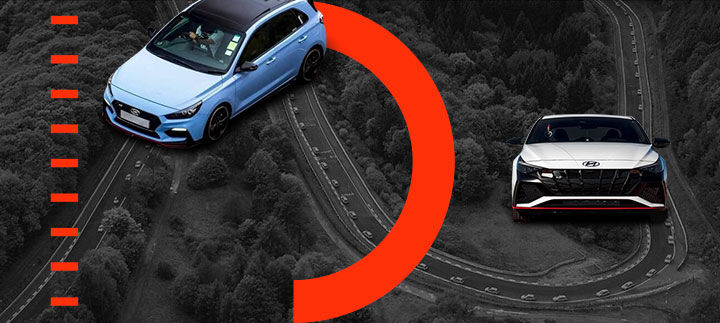 Ask any Nfluencer and they'll tell you they're a rascal at heart. They prefer living life on the edge, confidently carving corners and constantly pushing the limits. No small wonder since N cars are engineered to empower. Fine-tuned by some of the best engineers in the industry, they've smashed records from Sonoma to the Nürburgring Nordschleife, and are loved for their scalpel-like precision and heart-pounding performance. These playful beasts handle hairpin turns with ease.
Jason loves driving to his mother's — especially the Lantau Island's permit requiring Country Park. The roads are never packed with cars, and the scenery makes any drive memorable. Thanks to its adjustable damper suspension, his i30 N corners with confidence and an added sense of comfort along the rugged stretches.
Upgrading to the Elantra N from her Elantra GTS was night and day for Emily. Top-heavy turns from the added body roll are now a thing of the past. Her Elantra N feels grounded whenever she throws it into corners, keeping her fully in control all the time. It's no wonder the canyon keeps calling.
For Julia, her fondest driving experience is still cornering the hilly streets near her home in Stuttgart, Germany, and being thrust back into her seat from the rush of acceleration. The i20 N puts a smile on her face every time she gets behind the wheel.
Ever faithful to his N roots, Daniel drove an i30 N for three years before getting the Kona N. The one constant? Lots and lots of power. But with thrilling performance comes the need for control, and he says his car corners with razor-sharp precision, leaving him craving for more.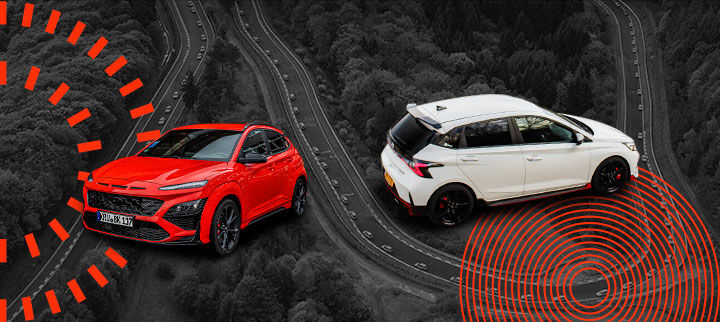 From getting around town to spinning around the track, the power and precision of N keep you fully engaged and totally in control. Thrill-seekers at heart, Nfluencer are energetic, feisty, driven, and like to live life fast. They like to push the limits a little more each day. For them, driving isn't just getting from one place to another, it's a way of life. It's what gives them a sense of purpose. It's their means of escape — the sheer excitement that freedom brings. Whether it's racing through the canyons, drifting around corners on the track, or cruising along the coast on the ultimate road trip, it's never about the destination but the journey itself.
A daily commuter in N Mode, Timo loves the handling, powerful engine performance, and finely tuned exhaust system with aggressive throttle blips when shifting. It's no wonder he finds every new drive more gripping than the last.
Whether he's out tearing it up around the racetrack or grabbing groceries, Kyle loves his N because it brings out his inner child. Its versatility and reliability are what really excite him — he can push his N to its limits around twisty mountain stretches and coast back home with confidence knowing that he can do it all again the next day. N's signature pops and burbles turn heads before he pulls up to his driveway, proving that this trusty machine is more than just great looks.
Distinction is always in the detail. For Nolan, building something that looked like it just rolled off the factory floor, with a bit more of an aggressive aesthetic, required adding some aero parts and carbon fibre hood paint that matched the OEM colour, while keeping the vents exposed. The result? A much more immersive driving experience that enhances the adrenaline rush of driving an N. Mission accomplished.
Whether it's going out for shopping or getting to the office, Stefanie's N never lets her down. For her, there's never a dull day driving. In fact, she takes it around the city for a spin any chance she gets so that she can show off the growling engine N cars are known for.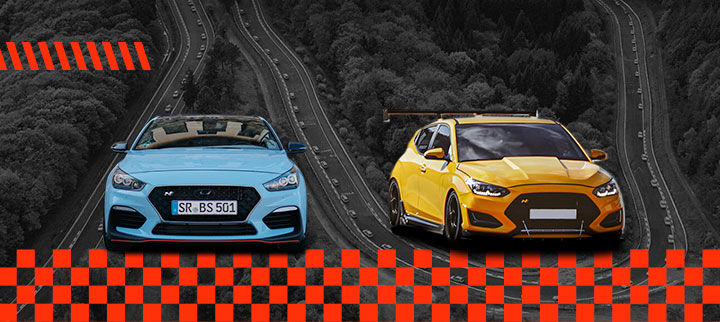 Racetrack ready and raring to go. These cars were meant for you to throw them around in the corners and drift until your heart's content. The more miles you drive, the more monumental a grin N puts on your face. Nothing beats the tactile sensation of your car responding to your every command, and with those blissful rev-matching engine blips with every downshift.
What Stephanie finds most exciting about her N is ripping around corners with ease and gaining more and more confidence with every lap the faster she drives. She loves being able to optimally adjust the chassis at will on the racetrack. It's also the glorious sound of the engine and the sense of community, that recognition when fellow enthusiasts nod and wave when they see another N drive by that makes being an owner so much more rewarding.
Scoring excellent lap times in his Veloster N DCT model with its excellent N Grin Shift system really puts a smile on Dongjin's face. For him, it came with everything he needed. He also loves the heritage of the N brand; its world-class performance around the Nürburgring Nordschleife makes him feel like he's pushing himself to the limits around the 'Green Hell' every time he goes for a spin. And the fact that you get so much value for your money certainly doesn't hurt either.
And there you have it. Inspiring stories from a growing group of N drivers who can't seem to get enough of their rides. They all come from different walks of life, from all corners of the globe, but they remain united by the powerful spirit of engineering excellence. Wherever the road ahead may lead you, N is designed to make your journey that much more memorable.
Here's wishing them and all fellow Nthusiasts a great 2022!
The Nfluencer Class of 2022