The new Elantra N Debuts with 8th N Birthday | Hyundai N
The New Elantra N's global launch coincides with the eighth anniversary of Hyundai Motor's high-performance N brand, which debuted on September 15, 2015
The refreshed model offers upgraded technology derived from motorsport competition to provide improved stability and comfort with fine-tuned performance
Elantra N now spearheads the brand's expansion into China alongside the Elantra N TCR which proved to be highly competitive in the local TCR series.
SEOUL, September 15, 2023 – Hyundai Motor Company today celebrated the eighth anniversary of its high-performance N brand with the global launch of the newly refreshed Elantra N (sold as Avante N in South Korea and as i30 Sedan N in Australia). Hyundai released an Elantra N performance film featuring actual vehicles owned by N enthusiasts.
First launched in 2021, Elantra N has become a favorite 'hot sedan' of driving enthusiasts and helped to accelerate the N brand's spread into the United States and Australia. Now, the enhanced Elantra N spearheads the brand's expansion into China where the new model made its global debut earlier this year at Auto Shanghai 2023 alongside Elantra N TCR, which has proved its competitiveness with multiple wins since its debut.
The new Elantra N boasts upgraded technological capabilities transferred from motorsport competition to offer improved handling balance in high performance driving, enhanced safety and comfort to deliver an emotionally engaging driving experience based on the three pillars of N vehicle development - Corner Rascal, Racetrack Capability and Everyday Sportscar.
The first Elantra originated from Elantra N TCR, which took the crown for the TCR class at Nürburgring 24-hour endurance race for two straight years (2021-22) and won the WTCR team and driver championship in 2022. Then, knowledge from the Elantra N Cup One Make Racing (OMR) series resulted in detailed refinements in software (logic) and hardware (weight reduction, suspension setup) to create the new Elantra N and a more competitive race car.
N brand has always been inspired by motorsport competition, and now that Elantra N TCR has proved its advanced technology with a successful race career, the new Elantra N becomes evidence of our commitment to bring motorsport-winning DNA into our road cars for N fans to enjoy.
Ride and handling enhancements include a reinforced engine mount membrane for reduced after shake and improved agility, G-bushing reinforcement for improved yaw response and steering precision, and a new rear suspension S/ABS insulator changed from rubber to urethane on rear support for improved damping and yaw response. Electronic Controlled Suspension (ECS) hardware has been improved for enhanced body control and optimized software for the hardware change.
For the steering system, the gear box yoke specification is improved for better steering feedback and direct feeling. The low-friction universal joint is used to increase steering precision. The motor-driven power steering software has been optimized according to new chassis and steering changes. Front and rear tire pressure has increased to 36/34 psi (compared to the current 35/33 psi) to compensate for front axle load increase while maintaining front to rear ride and handling balance.
The new Elantra N receives improved cooling without compromise in aerodynamic efficiency. For maximum cooling on the radiator surface, a duct-style air guard guides air flow to maximize speed, improve aerodynamics, fuel efficiency and cooling ability in extreme conditions. The wing-type spoiler improves aerodynamics for maximum speed and faster corner exits.
The new model's front bumper air guide, derived from motorsports, improves braking performance by allowing air to flow directly towards the brake to cool off the heat generated from braking. Braking is further enhanced with upgraded Electronic Stability Control (ESC) software and the addition of a thermal protector on the front brake hose for increased endurance.
Furthermore, the new Elantra N's software has been reprogrammed for optimal use of high-octane gasoline to improve performance, an enhancement derived from the voices of enthusiasts, whom Hyundai N has frequently communicated with at events, such as track days and N birthdays.
The new Elantra N's 2.0T GDi engine was especially developed for N models. It is paired with 6 MT / 8 DCT transmission to deliver 280 PS, 40 kgf·m maximum torque and a top speed of 280 km/h.
"Recognized for its outstanding value in the global high-performance car market, the N brand stands as a symbol of Hyundai's leading technological capabilities and will contribute to enhancing Hyundai Motor's brand value," said Joonwoo Park, Vice President of N Brand Management at Hyundai Motor Company.
A motorsport-inspired look designed with popular fan feedback
The front of the new Elantra N features a lower stance with enlarged black trim and exterior color garnish, which combined with the bolder bumper design, gives it a dynamic and aggressive look that embodies N brand's high-performance spirit.
On the sides, N-specific red strips across the front and rear bumpers, including the side sill mouldings, complete the distinctive look of a high-performance vehicle. In addition, the black anodized emblem, which will be the new design identity of the N brand starting with the new Elantra N, accentuates the model's sporty image.
At the rear, the black bumper has been enlarged and a boat tail detail has been added to emphasize the car's sporty image while improving aerodynamics.
Inside, the new Elantra N gets an N-specific steering wheel and shift knob, instrument cluster and infotainment systems as well as N light sport bucket seats with illuminated logo.
Hyundai N releases new film dedicated to N fan's love for driving featuring the new Elantra N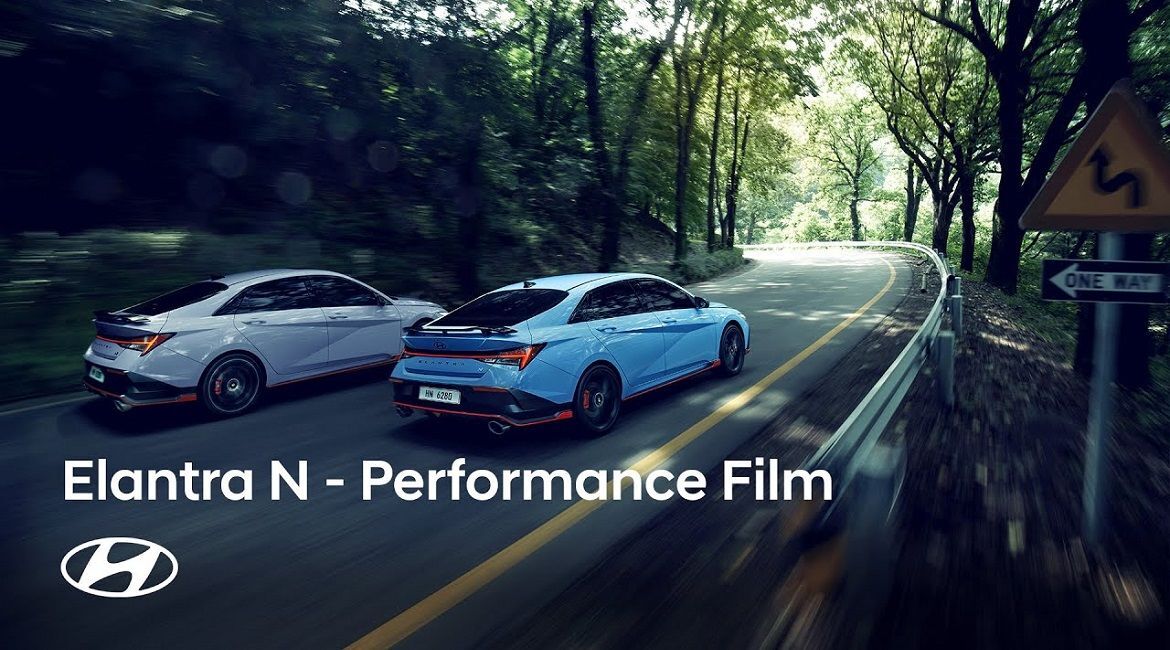 Since its launch in 2021, Elantra N has quickly gained recognition among N fans (or 'N-thusiasts') and become one of the best-selling N vehicles as well as being one of the most competitive in TCR races around the world.
Yet, enthusiasts love for Elantra N extends further into the past. One of the first drivers to compete in major events with a Hyundai was Australian rally legend Wayne Bell, who in 1991, competed with the Hyundai Lantra (an Elantra predecessor produced from 1991 to 2000) in rally events throughout Australia and Southeast Asia, picking up class wins almost from the start.
The new Elantra N builds on the motorsport heritage first initiated by devoted enthusiasts like Mr. Bell. Backed by N-thusiasts around the world, Hyundai N promises to continue listening to their collective voices and commits to petrol-powered fun-to-drive performance as long as regulations allow. By launching the new Elantra N and IONIQ 5 N in 2023, Hyundai N shows its commitment to realizing fun-to-drive performance no matter what powers the vehicle.
For N brand's eighth birthday, Hyundai N released an Elantra N performance film dedicated to N-thusiasts, featuring actual vehicles owned by N fans.
N's global expansion continues with China
Since its launch in 2015, Hyundai N has been expanding its market globally and has successfully positioned itself as a high-performance brand in just eight years. With the new Elantra N design world premiere at Auto Shanghai 2023, N brand made its first step into China.
Moreover, the Elantra N TCR has proven its technological advancement at the 2023 TCR China Touring Car Championship with multiple race victories.
With its entry into China, Asia's largest high-performance vehicle market, Hyundai Motor is promoting the N brand's product competitiveness and differentiated customer experiences while building Hyundai's local fan base and strengthening its competitiveness in the Chinese market.
Customers will start seeing the new Elantra N in stores as its global rollout begins.