The new king of
2019 FIA

WTCR
#keeppushing #oneteamonewin
Hyundai i30 N TCR driver Norbert Michelisz secured the WTCR – FIA World Touring Car Cup title after a dramatic finale weekend at the WTCR Race of Malaysia.
2019 FIA WTCR
WE DON'T COUNT,

WE JUST KEEP

WINNING.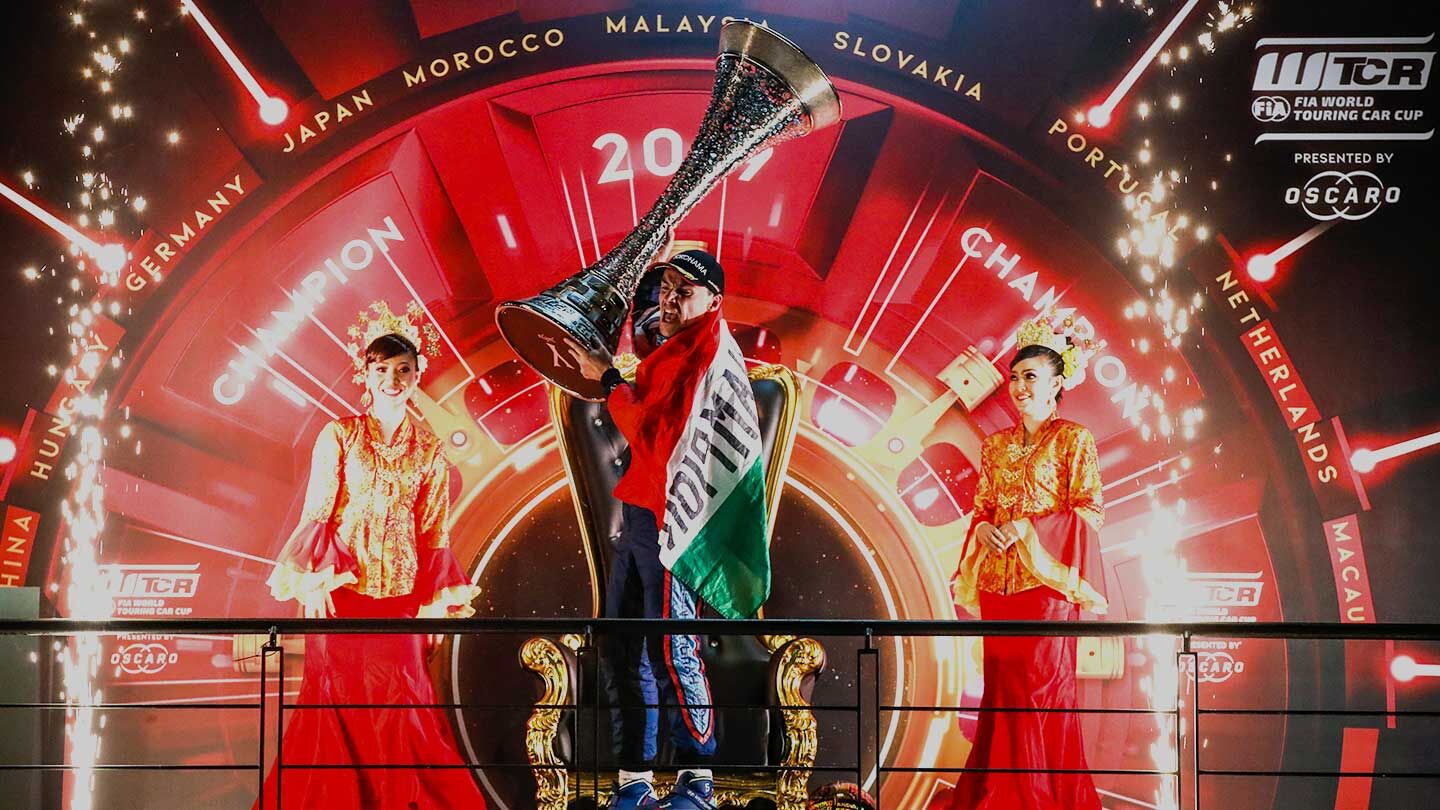 I am so happy to be able to say I am the WTCR World Touring

Car Cup winner. It is such a fantastic feeling after such a

tense day. From the start of the weekend the i30 N TCR was

really fast, but the mixed conditions for the races still made it

very challenging. Though it is a drivers' title it has been won

with the help of the whole team. Without their work, and the

performance of the car it would not be possible. Gabriele Tar-

quini was one of the first people to congratulate me once we

crossed the line. To follow him as the WTCR winner is amaz-

ing for me and especially great for the whole BRC Racing

Team and the Hyundai Motorsport Customer Racing depart-

ment who are responsible for building the i30 N TCR.
I could not be more proud to say we have a second BRC

Racing Team-run Hyundai i30 N TCR driver as WTCR –FIA

World Touring Car Cup winner in two years of racing. Norbert

has obviously been great, and fully deserves to be on top of

the podium after an incredibly close season. To clinch the

title he needed a strong weekend in Malaysia under pressure,

and he did exactly what was asked of him. For him to have

won at five different circuits, as radically different as the

Nordschleife and Vila Real, shows how versatile the i30 N

TCR package is. It also shows the car can cope with anything

the WTCR season –or any other TCR series –can come up

with, and finish the year with a superb result.
Championship
Standings
2019 FIA World Touring Car Cup
Championship Standings
Championship
Car
Leading Team
Leading Driver(s)
Position
Team
Driver
FIA WTCR
i30 N TCR
BRC Racing Team
Norbert Michelisz
2nd
1st
TCR Europe
i30 N TCR
Target Competition
Josh Files
1st
1st
TCR Asia
i30 N TCR
Engstler Motorsport
Luca Engstler
1st
1st
IMSA Michelin Pilot Challenge
Veloster N TCR
Bryan Herta Autosport
Mark Wilkins Michael Lewis
1st
1st
TCR Australia
i30 N TCR
HMO Customer Racing
Will Brown
1st
1st
TCR Malaysia
i30 N TCR
Engstler Motorsport
Luca Engstler
1st
1st
TCR Germany
i30 N TCR
Engstler Motorsport
Luca Engstler
1st
1st
TCR Russia
i30 N TCR
TAIF Motorsport
Dmitry Bragin
1st
1st
TCR UK
i30 N TCR
Essex & Kent Racing
Lewis Kent
2nd
2nd