2019 FIA WORLD RALLY CHAMPIONSHIP
WE DON'T COUNT,
WE JUST KEEP
WINNING.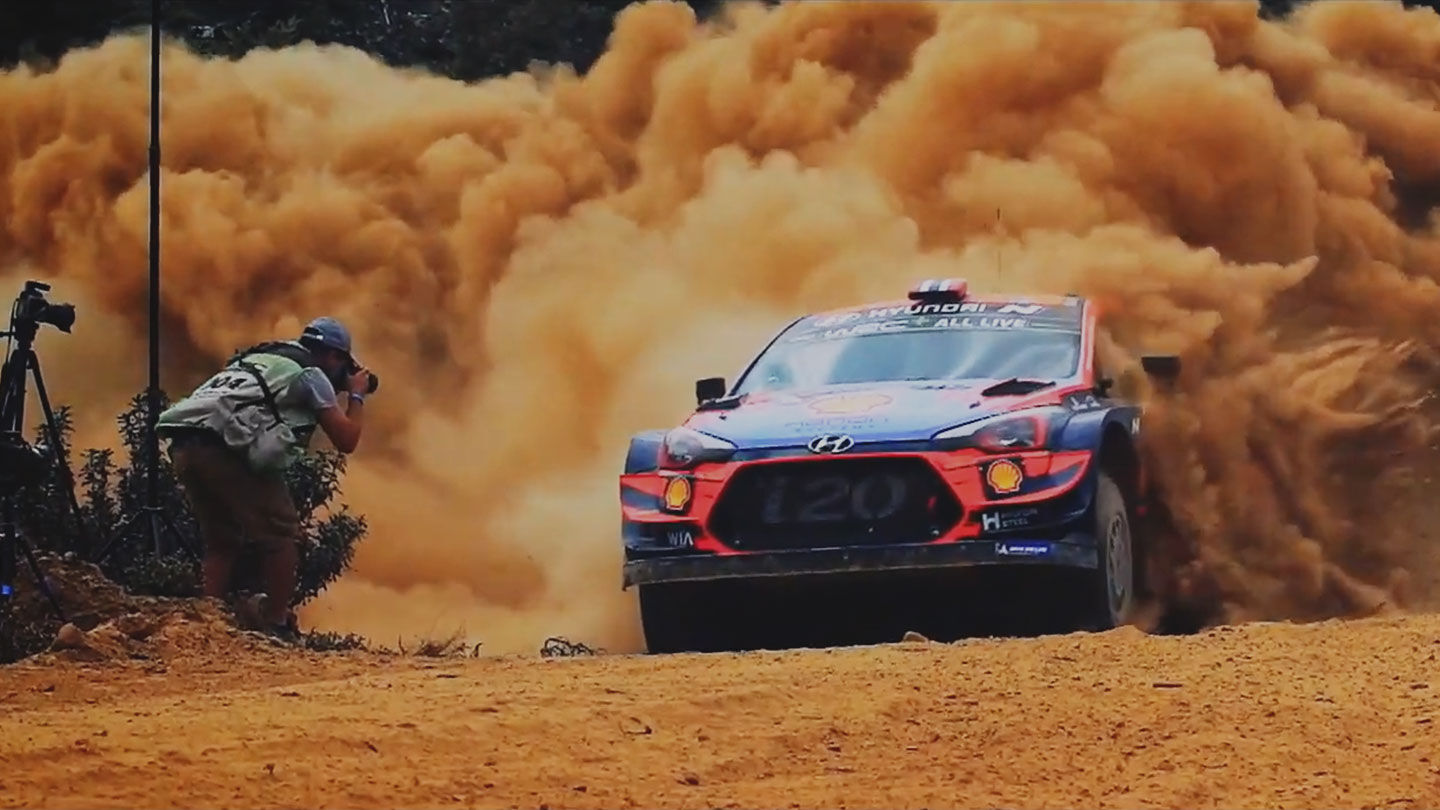 WE ARE
CHAMPIONS!
#keeppushing #oneteamonewin
Hyundai Motorsport has truly captured the spirit of Hyundai

and our N high-performance brand. The successes they have

enjoyed over many seasons have been incredible to watch,

and the influence on Hyundai's road vehicles cannot be un-

derestimated. We will now focus on transferring that winning

feeling onto customers around the world and to enhance

their enjoyment of driving Hyundai vehicles.
To win a World Championship is the highest career point of

anyone involved in motorsport and it's certainly a great sat-

isfaction for everyone working at Hyundai Motorsport, abso-

lutely every single person in the company. Never before this

season had everyone in the company been so focused to do

well, both in our WRC and Customer Racing activities. Each

individual has their unique fingerprint on this result.
We have continuously developed our car throughout the

whole season. I had a consistently fast car on all surfaces,

which was one of the key things for our success. I also had

strong teammates; Andreas finished fourth in the champion-

ship, Dani secured important points during the season and

having Sébastien was also very helpful. They all gave me

such great support in the drivers' title battle.
I am really happy to have played a part in this title, and to

share it together with the team. We were waiting a bit longer

than we would have wanted but this year we have really

been in command throughout the season, so it's a great

result, hard fought and well deserved.
Everyone in the team fully deserves to be crowned manufac-

turers' champions this season. We have had a competitive

year, with a versatile and consistently quick car on all surfac-

es, strong teamwork and sheer determination to get the job

done. Personally, Anders and I had some good results; to

finish fourth in the drivers' championship shows the contribu-

tion we have made.
My role was focused only a specific number of events but I

have to say I was impressed by the approach of the team,

and the performance of the Hyundai i20 Coupe WRC. Our

podium in Chile was a good result for Daniel and myself.

More importantly than any individual result, I think the team

has shown complete dedication and commitment to secur-

ing the title. Credit to them for a fantastic achievement. We

can look to 2020 with even greater targets but first we have

Rallye du Var next week.
Championship
Standings
FIA WORLD RALLY CHAMPIONSHIP FOR MANUFACTURERS
Championship Standings
Pos
Manufacturers

87e Rallye Automobile Monte-Carlo

RACC Rally Catalunya de Espana

Total
1.
HYUNDAI SHELL

MOBIS WORLD

RALLY TEAM Hyundai

18+12

(2+4.)

15+12

(3+4.)

12+8

(4+6.)

25+12

(1+4.)

25+18

(1+2.)

15+6

(3+7.)

18+6

(2+7.)

25+15

(1+3.)

12+8

(4+6.)

15+12

(3+4.)

15+10

(3+5.)

18+8

(2+6.)

25+15

(1+3.)

-
380
2.
TOYOTA GAZOO

RACING WRT

Toyota

15+10

(3+5.)

25+8

(1+6.)

18+10

(2+5.)

8+4

(6+8.)

12+10

(4+5.)

25+4

(1+8.)

25+8

(1+6.)

11+6

(5+7.)

26+15

(1+3.)

26+18

(1+2.)

9+6

(6+7.)

26+12

(1+4.)

18+12

(2+4.)

-
362
3.
CITROEN TOTAL

WRT Citroen

25

(1.)

18+4

(2+8.)

25+6

(1+7.)

18+6

(2+7.)

15

(3.)

18+8

(2+6.)

15

(3.)

8+4

(6+8.)

18+10

(2+5.)

10+8

(5+6.)

25+18

(1+2.)

15+4

(3+8.)

6

(7.)

-
284
4.
M-SPORT FORD

WORLD RALLY

TEAM Ford

8+6

(6+7.)

10+6

(5+7.)

15

(3.)

15+10

(3+5.)

8

(6.)

12+10

(4+5.)

12+10

(4+5.)

18+12

(2+4.)

6

(7.)

6+4

(7+8.)

12+4

(4+8.)

10+6

(5+7.)

10+8

(5+6.)

-

218
Hyundai Motorsport
WRC Drivers
and Co-Drivers
Thierry Neuville

DRIVER

Birthday : 16. Jun 1988
Place of birth : Sankt Vith (BEL)
Nationality : Belgian

Nicolas Gilsoul

CO-DRIVER

Birthday : 5. Feb 1982
Place of birth : Chênée (BEL)
Nationality : Belgian

Dani Sordo

DRIVER

Birthday : 2. May 1983
Place of birth : Torrelavega (ESP)
Nationality : Spaniard

Carlos del Barrio

CO-DRIVER

Birthday : 15. Aug 1968
Place of birth : Santander (ESP)
Nationality : Spaniard

Sébastien Loeb

DRIVER

Birthday : 26. Feb 1974
Place of birth : Haguenau(France)
Nationality : French

Daniel Elena

CO-DRIVER

Birthday : 26. Oct 1972
Place of birth : Monaco (MCM)
Nationality : Monegasque

Andreas Mikkelsen

DRIVER

Birthday : 22. Jun 1989
Place of birth : Oslo (NOR)
Nationality : Norwegian

Anders Jæger

CO-DRIVER

Birthday : 29. Jul 1989
Place of birth : Oslo (NOR)
Nationality : Norwegian

Craig Breen

DRIVER

Birthday : 02. Feb 1990
Place of birth : Slieverue
Nationality : Ireland

Paul Nagel

CO-DRIVER

Birthday : 29. Aug 1978
Place of birth : Killarney
Nationality : Ireland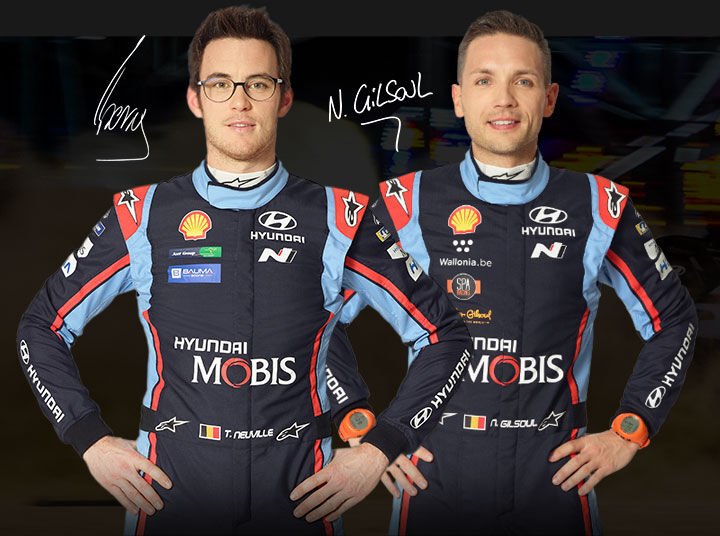 Thierry Neuville
DRIVER
Birthday : 16. Jun 1988
Place of birth : Sankt Vith (BEL)
Nationality : Belgian
Nicolas Gilsoul
CO-DRIVER
Birthday : 5. Feb 1982
Place of birth : Chênée (BEL)
Nationality : Belgian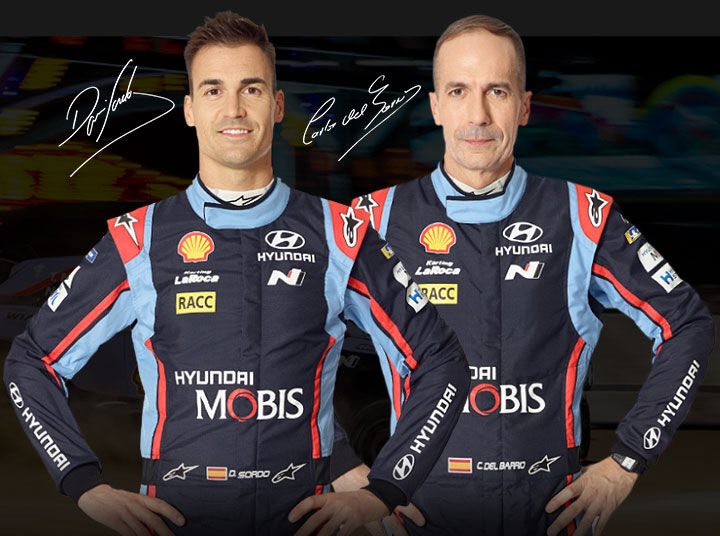 Dani Sordo
DRIVER
Birthday : 2. May 1983
Place of birth : Torrelavega (ESP)
Nationality : Spaniard
Carlos del Barrio
CO-DRIVER
Birthday : 15. Aug 1968a
Place of birth : Santander (ESP)
Nationality : Spaniard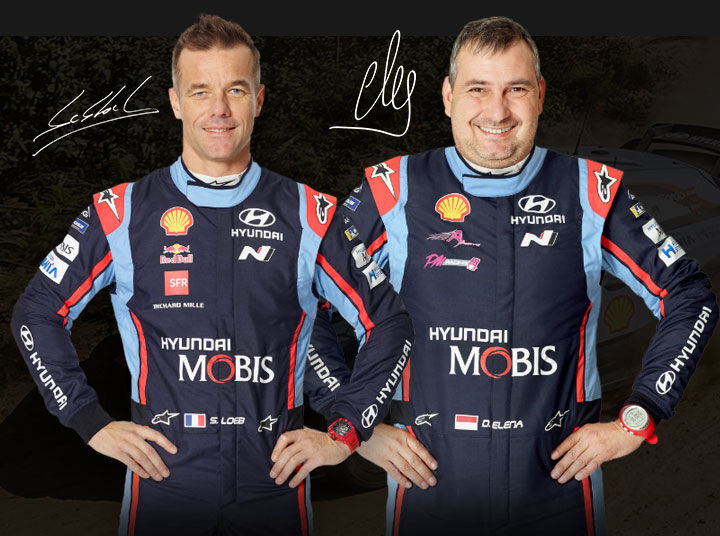 SÉBASTIEN LOEB
DRIVER
Birthday : 26. Feb 1974
Place of birth : Haguenau (France)
Nationality : French
Daniel Elena
CO-DRIVER
Birthday : 26. Oct 1972
Place of birth : Monaco (MCM)
Nationality : Monegasque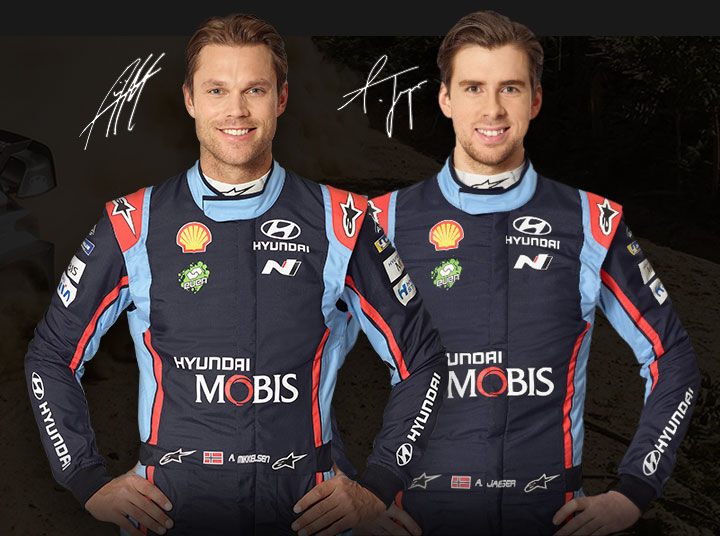 Andreas Mikkelsen
DRIVER
Birthday : 22. Jun 1989
Place of birth : Oslo (NOR)
Nationality : Norwegian
Anders Jæger
CO-DRIVER
Birthday : 22. Jun 1989
Place of birth : Oslo (NOR)
Nationality : Norwegian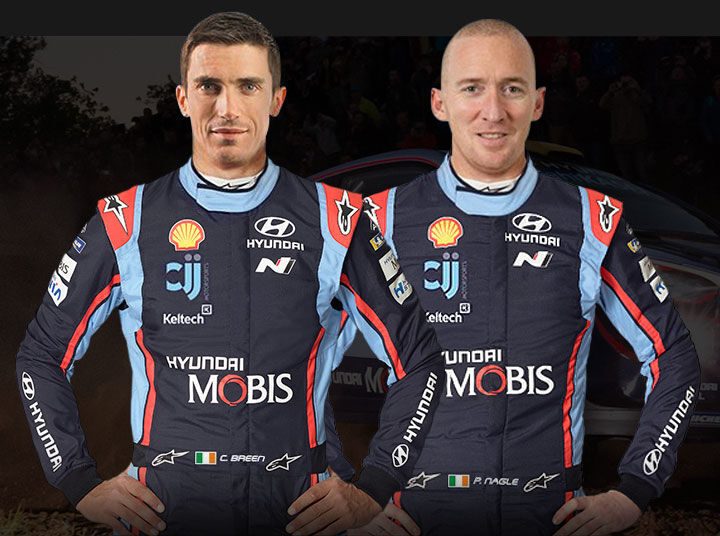 Craig Breen
DRIVER
Birthday : 02. Feb 1990
Place of birth : Slieverue
Nationality : Ireland
Paul Nagel
CO-DRIVER
Birthday : 29. Aug 1978
Place of birth : Killarney
Nationality : Ireland