Performance Fun to drive
N-ZINE 08 Jul 2020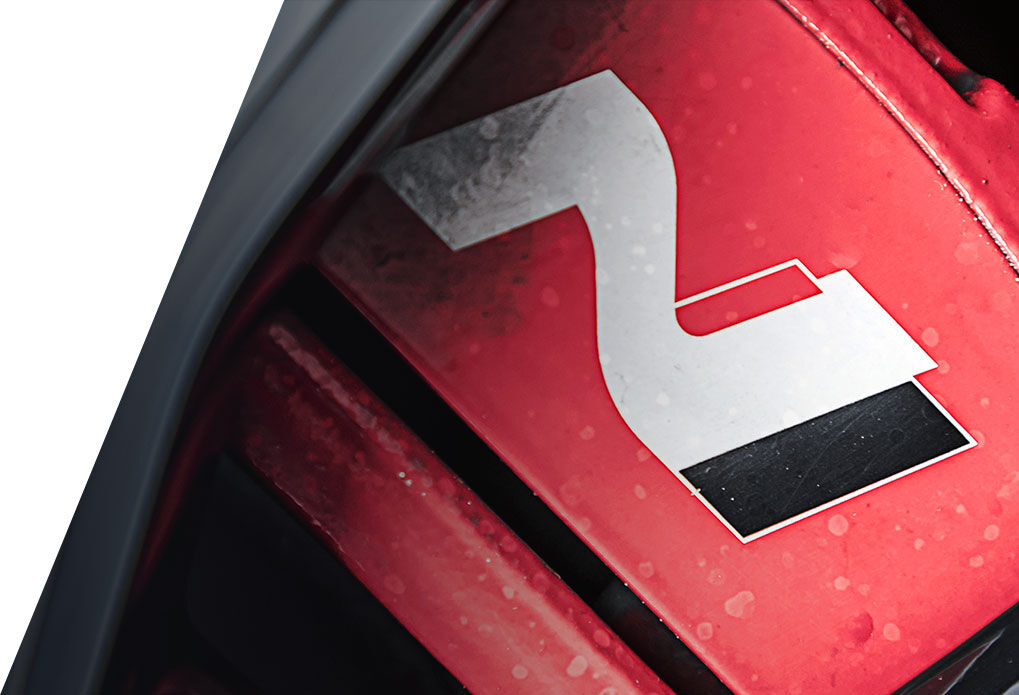 From the birth of its name and logo, to its background and character,
we follow the story of N.
Since 2012
One day, Hyundai's Namyang R&D Center conducted an internal search for researchers to be part of a new team that would work on the development of high-performance cars. A group of people, hoping to fulfill their dreams as both developers and car enthusiasts, were selected. We can say that day in 2012 is the day the high-performance N brand began. That same year in autumn at the Paris Motor Show, Hyundai revealed the i20 WRC concept car and announced its participation as a manufacturer in the WRC. Just after, in December 2012, it established the Hyundai Motorsport (HMSG) branch in Europe, and the following spring at the Geneva Motor Show, announced the first and nearly fully developed i20 WRC race car. At the end of 2013, the N logo made its debut and the following year, the Hyundai WRC team participated in its first race, the Rallye Deutschland. It quickly rose to the top, placing first and second in the driver's division and first in the manufacturer's division for a successful debut season. During this time, the Namyang R&D Center's passionate researchers introduced the high-performance model of their dreams to the world. The RM concept car series. The RM series kicked off with RM14 at the 2014 Busan Motor Show, then continued with RM15, RM16, and RM19 the following years. But the RM series was not just for show. From the midship layout to the aluminum space frame, carbon-reinforced plastic, active spoiler, and four-cylinder turbo engine with electric supercharger technology, the RM series was, and continues to be, a "Rolling Lab" that tests developments in high performance.
The final piece to complete the launch of the brand N was to recruit talent. In September 2014, Hyundai hired elite research staff and officially launched its high-performance center. That December, Albert Biermann, who was in charge of developing BMW's high-performance cars, was hired as Executive Vice President and Head of Vehicle Test & High Performance Development. The following November, Klaus Köster, a former member of Mercedes AMG joined as director of the Hyundai Motor European Technical Center (HMETC)'s High Performance Vehicle Development division, and in March 2018 one more talent was hired from abroad—Thomas Schemera. Schemera began his career as an engineer at BMW, gaining experience in purchasing, sales, product planning, and marketing. Using this experience, he led BMW's high-performance car division for China and North American markets and drove strong growth in the brand and sales. While the previous two German executives furthered research and development, Schemera defined the overall business direction from products to marketing and laid the groundwork to expand the high-performance brand base. Schemera brought the separate high-performance car product planning, marketing, and motorsport divisions together to create a unified High-Performance Vehicle & Motorsport Division and has since been leading the charge.
N is...
N is the official name of Hyundai's high-performance brand. If you look at German carmakers like Mercedes AMG, BMW M, Audi RS, and Volkswagen R, it's easy to understand what this high-performance division stands for. But unlike those brands, whose names are closely connected to motorsport, Hyundai N's name is derived from the English initial of Namyang, Hyundai's R&D center and Nürburgring, the location of its Driving Performance Test Center in Germany. The research for both i30 N and Veloster N took off at Namyang R&D Center, after which the two went straight to the Nürburgring for practical testing to refine its performance. The Nürburgring test center location is close to Hyundai's European Technical Center in Rüsselsheim, Germany and Hyundai Motorsport in Alzenau, giving it an advantage as it applies European high-performance vehicle technology and motorsport expertise to mass-produced N models.
But developing N didn't—and doesn't—just rely on European facilities. When Hyundai's high-performance car development started to kick into high gear, it built a test track dedicated to developing N at the Namyang R&D Center. Completed in 2015, the test track was divided into three parts: the high-speed handling track (2.1km), the multi-purpose handling track (1.4km), and the low-friction handling track (1.1km). The high-speed handling track is often used as a test site, as its tortuous chicanes and hairpins are reminiscent of the Nürburgring. The shape of N's logo is based on the chicane—the serpentine curves you encounter on a circuit or winding roads. In a chicane, you experience the thrill of braking, cornering, and accelerating all in one go. It's also the moment you can best feel N's philosophy of fun to drive.
Portfolio
For a brand, building up a solid portfolio is essential, and this applies to N as well. Under its mid- to long-term plan, N is well on its way to designing the perfect line-up. At the center of the brand portfolio is its N models, i20N, i30N, i30 Fastback N, Veloster N, Elantra N and Kona N. Right below them are the N Line models, standard mass-produced models fitted with N's sporty design elements and upgrades. With a leather steering wheel and gear lever, suede sports seats, and more, it's very clear that the interior harks back to its N roots. It also adds a sportier chassis and brake tuning than the standard models.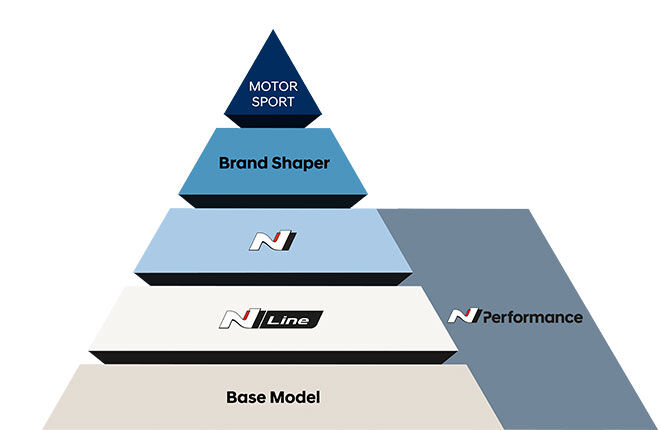 N PRODUCT PORTFOLIO
There's also the high-performance halo model, also known as N's Brand Shaper, in development—though it's still unknown what kind of vehicle will make it to the limelight. Motorsport is considered the peak of the N brand, also referred to as "N's cradle". N models are high-performance cars that not only utilize technology, but also experience from motorsports such as WRC and TCR from the very beginning. Hyundai Motorsport won the manufacturer's title for two consecutive years in 2019 and 2020 WRC season. The i30 N TCR, Veloster N TCR and Elantra N TCR are successfully competing in the world's rally stages, joined by our first-ever electric racing car, the Veloster N ETCR.
3 DNA
When Schemera introduced the N models, he stated that all N cars are made to be fun to drive, and this is supported by three DNA pillars. The first is Corner Rascal. This means that any driving enthusiast can also enjoy the taste of ferociously, yet solidly, going through corners. For this, Veloster N is equipped with the N Corner Carving Differential (e-LSD), R-MDPS electric steering, and exclusive sports bucket seats. The second pillar is Everyday Sports Car. As Biermann says, N models are not only for high-performance car fans, but also to capture a wider audience. Rather than focusing on output, responsiveness to different driving environments is more important. The N Grin Control System, rev matching technology, and its popcorn exhaust sound are all what make Veloster N an everyday sports car. And the third and final pillar is Race Track Capability. For N, it doesn't stop at just having performance fit for the track; it's also built ready as-is, there's no need to reinforce your car or do other modifications. It's these qualities that make N even more attractive to the track day racer.
So what is N? N's a car that can go straight from the showroom and hit the ground running on the track.